PROJECT AND OPPORTUNITIES
Introducing @mentions and Notifications
You can now tag any participant team member in Notes within a project or opportunity by typing @nameoftheuser. Your team member will now be notified in the .STUDIO Notification hub of having tagged.
TEAM INFORMATION ACCESS
Manage Licensing, Subscriptions and Orders
Manage your existing licensing and permissions directly from Settings. You can now assign .STUDIO licenses to users and add new users to your .STUDIO plan. Go à la carte, as you please, when you need!
MANAGE YOUR PROJECTS
Chart TOTAL HOURS SPENT ON PROJECTS
We have new arrivals! A new 'Total Hours Spent on Projects' chart has been added to the widgets gallery. Slide to Zoom. See them magnificently magnified!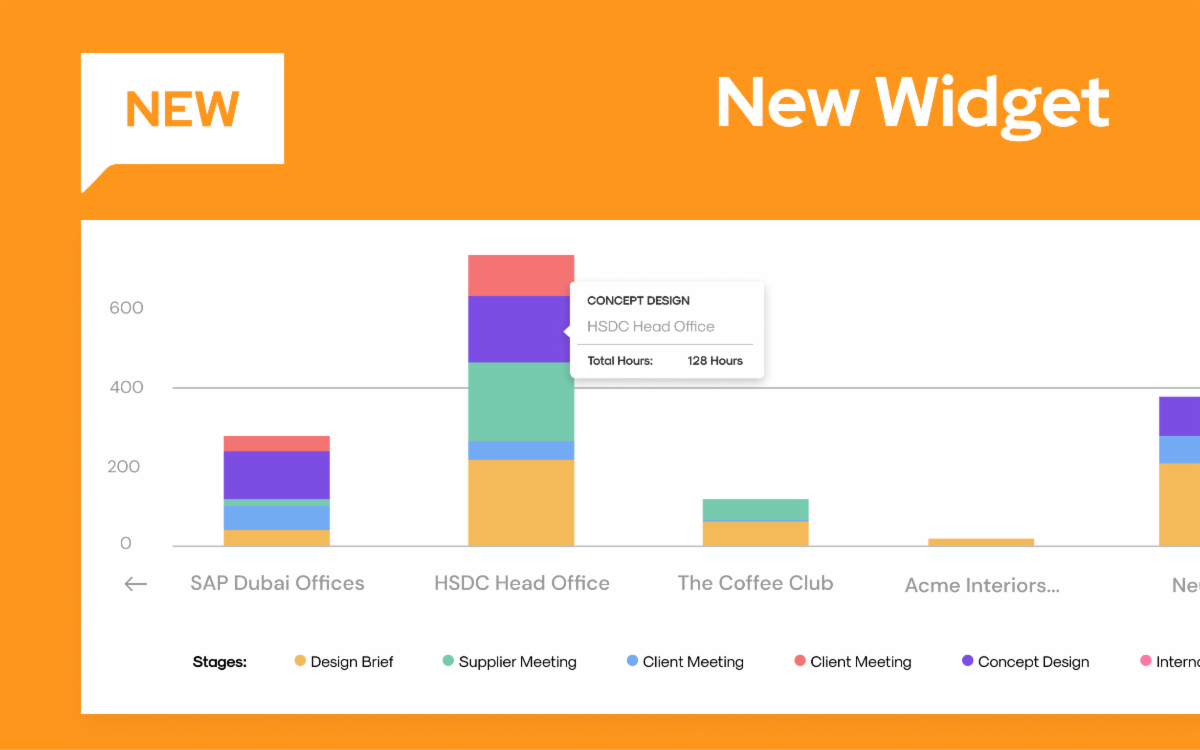 MANAGE YOUR PROJECTS
Implementing Projects Group
You can now manage your sub-projects easily by grouping them.
TEAM INFORMATION ACCESS
Upgrades to Company Settings
The settings page is now Tab free. We moved the 'Members' tab to be placed under the Company section in Settings and named it 'Users.' One page does it all!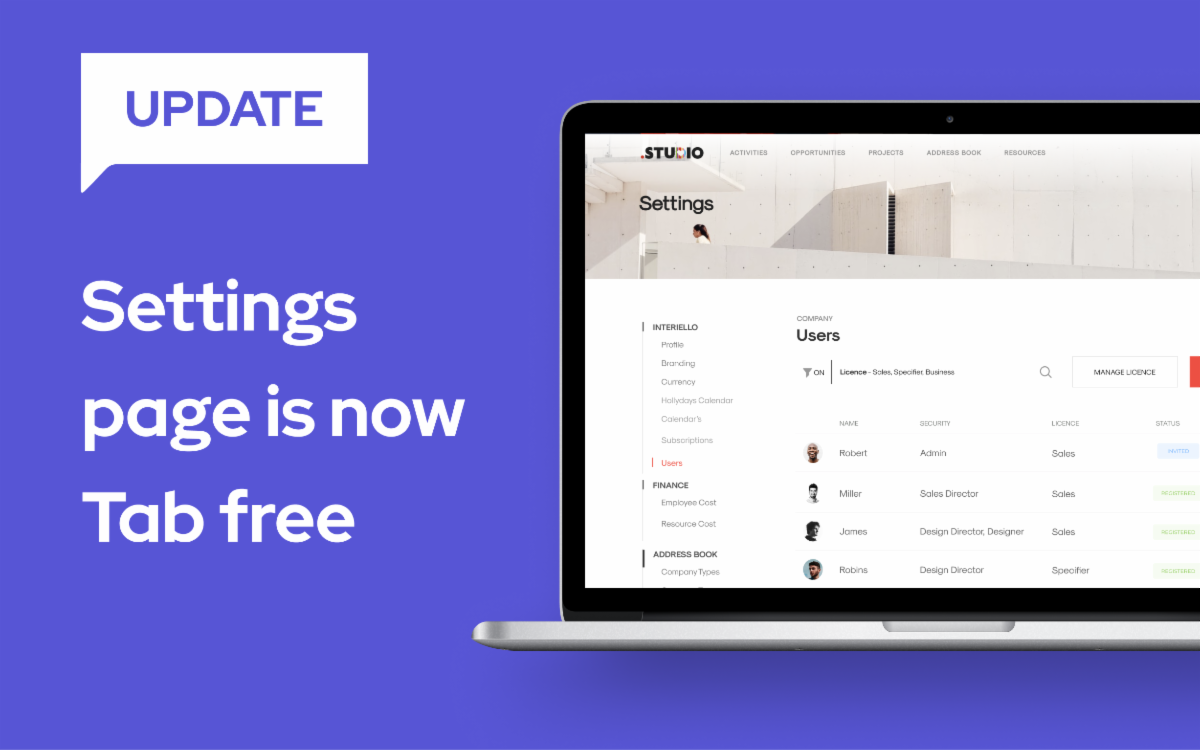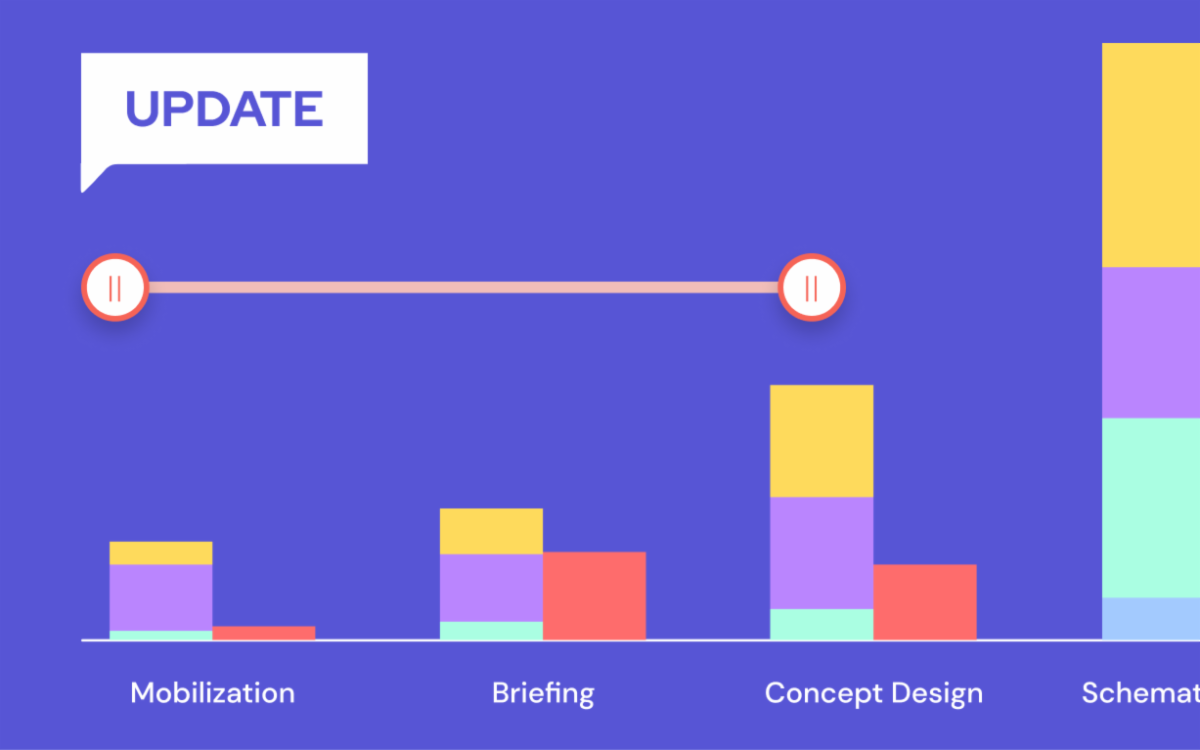 MANAGE YOUR PROJECTS
Project and Projects overview slider/zoom feature
This widget got a makeover! It's not static anymore. We made it interactive! 😊
OPPORTUNITY TRACKING
Opportunities Timeline
You can now create custom events for your opportunity in the new timeline section. Add start dates, submission dates, deadlines and many more to help with your opportunity tracking on .STUDIO.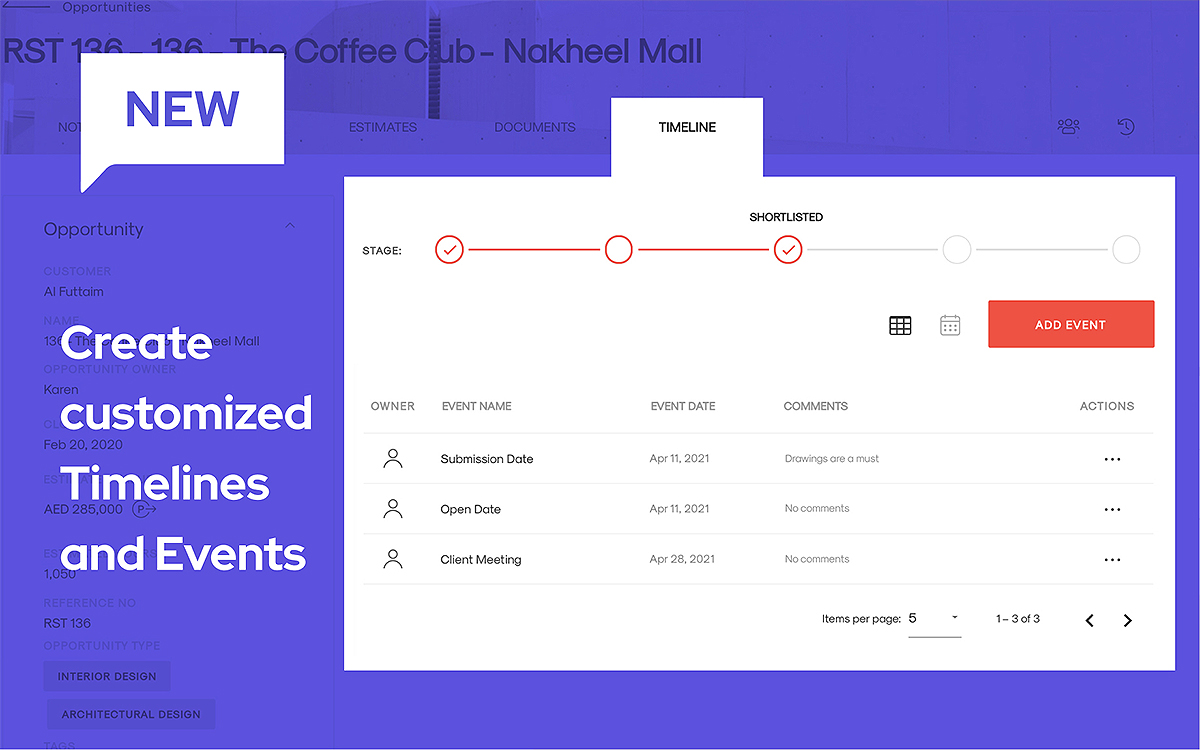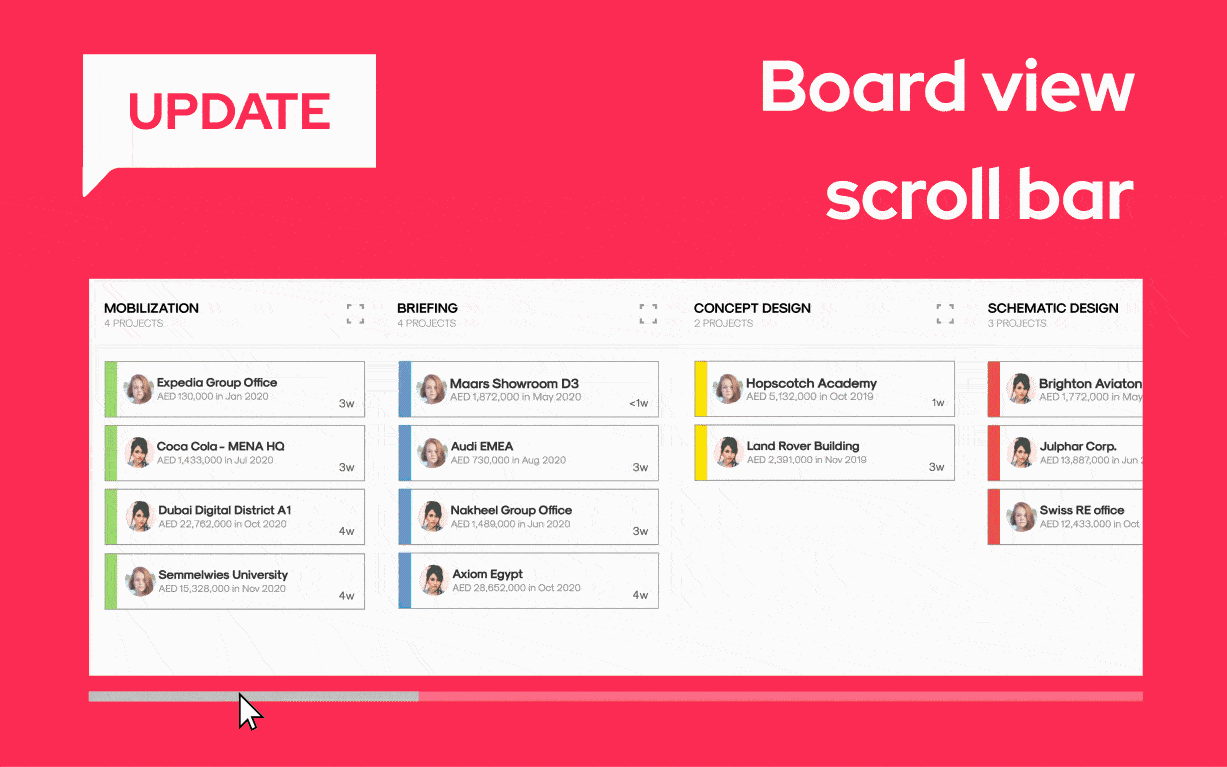 OPPORTUNITY AND PROJECTS
Opportunities and Projects Board View scroll bar
The Board View got a makeover! It's now super easy to navigate through your board view with the new scroll bars functionality.
PROJECT SPECIFICATIONS
Create Project Area Mappings for your specifications
We have upgraded how locations can be specified on a project. Area Maps are now editable in a central location for use across all packages of that project. Clearly define a location on a project by room, floor or area and create hierarchical groupings of areas as well
MANAGE YOUR PROJECTS
Add State and Zip code to your project's address
We now have State and Zip code as part of the standard address fields for both Opportunities and Projects.
MANAGE YOUR PROJECTS
Categorize your project clearly with the new Project Type field
We have added a new field to help categorize your projects. You can now Include the type of the project such as commercial or residential or any categorization of your choosing.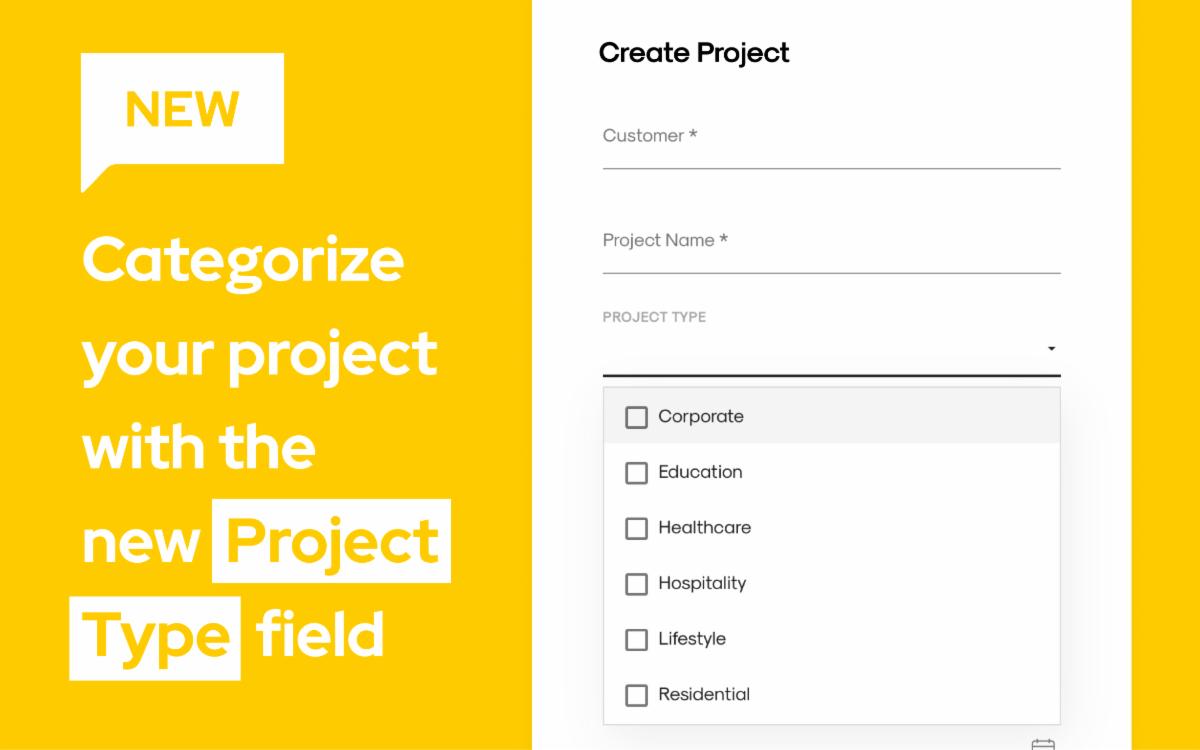 MANAGE YOUR PROJECTS
Enable or Disable your stage pipeline project-wise
To make it easy to manage your stage pipeline according to your preferences, we have modified the enable/disable button under Opportunities and Projects.
PROJECT SPECIFICATION EXPORT
Save your options and create a preserved version of your template
You can use the SAVE OPTIONS functionality per package, per type and per user while exporting your specifications template.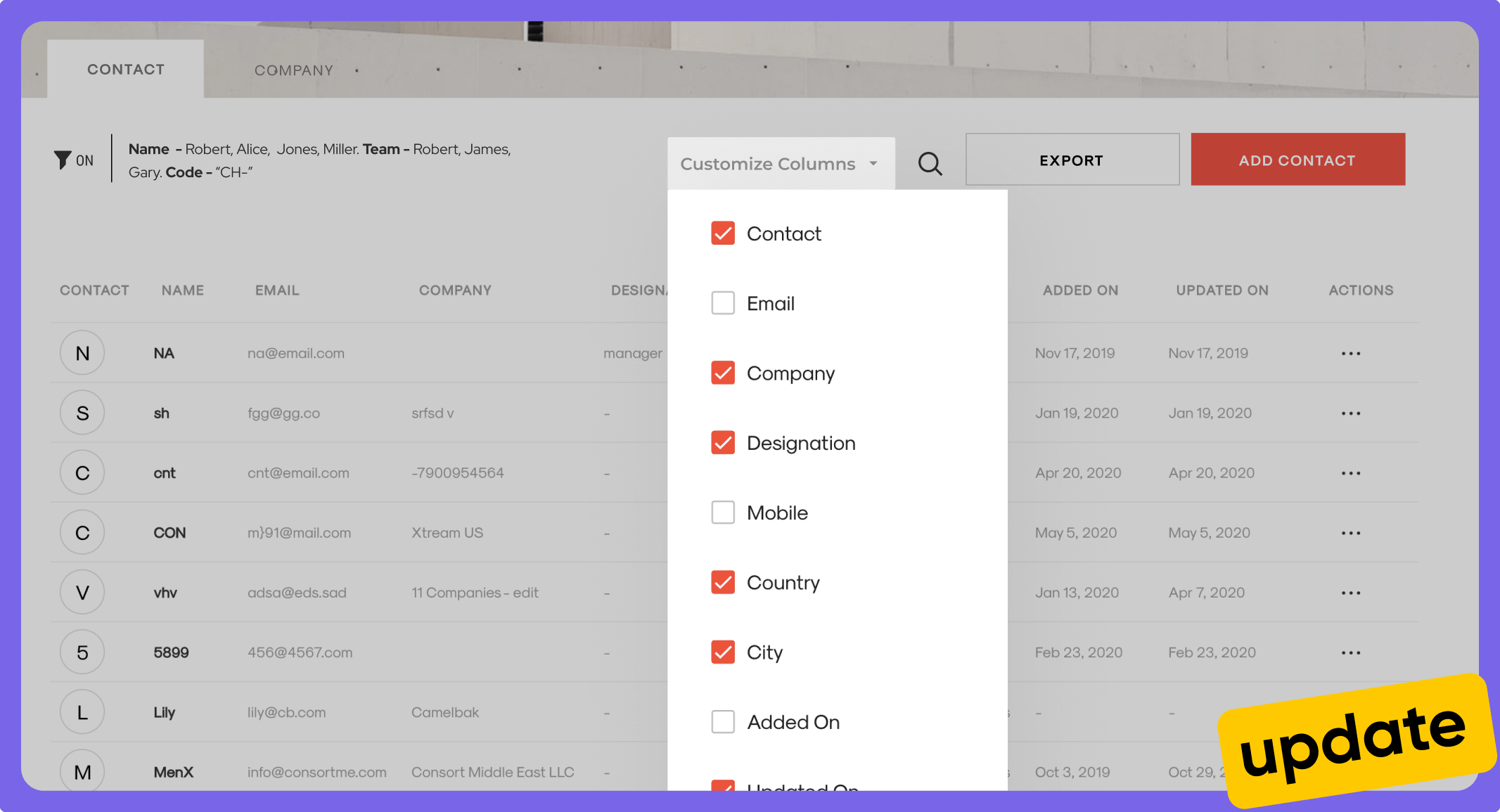 ADDRESS BOOK
Customize and manage your Address Book columns
You can now filter your Address Book columns based on their property values to limit the records you view.