PRODUCT SPECIFICATIONS
Move beyond Spreadsheets
Wading through endless rows of specification data is painful. And the inevitable cost of any wrong entry can really break the bank. Let us put an end to that! While Excel and InDesign are fantastic tools, they are not purpose built for interior design and especially not for creating specifications.
With .STUDIO creating product specs and tear-sheets is a breeze and your whole team can work online together, at the same time, to put your specs together. Easily manage revisions and track client approvals, making updates in minutes, and that's just scratching the surface!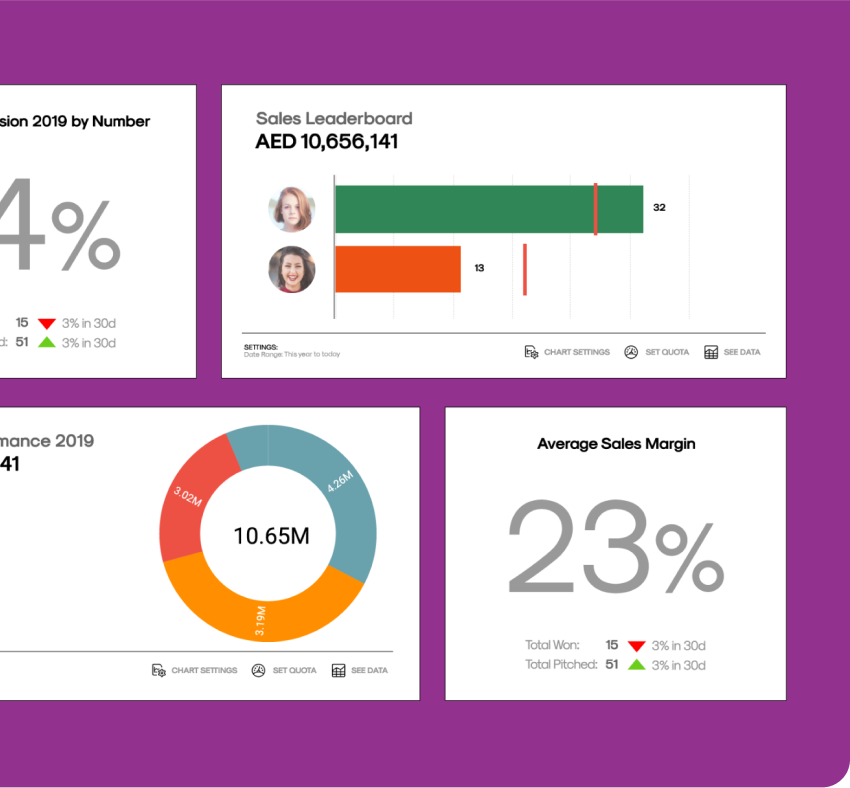 MANAGE SALES OPPORTUNITIES
Project sales teams - organized!
Manually updating sales reports to understand how your team is tracking towards their targets needs to stop. It takes away time you could be spending closing deals. With .STUDIO you can get a live view of your entire sales pipeline on your custom dashboard, with detailed reports and widgets for individual and team performance.
Stay on top of your sales commitments by understanding which opportunities have the best chance of converting to revenue. You can also create time and materials estimates to track real profitability on jobs you win. The entire history of you sale can be tracked collaboratively by capturing and reviewing calls, emails and contact history whenever you need to.
MANAGE YOUR PROJECTS
Your team's project workflow platform
When you manage your projects with .STUDIO you can easily track project progress and understand profitability. Find out which jobs make you money and red flag those that won't before they burn a hole in your bottom line.
Because everything is integrated, using .STUDIO for your projects means you have access to improve quoting, streamline invoicing & estimating, and manage cash flow in one tool. Visibility of your whole organization across all departments is standard with .STUDIO's advanced reporting engine so you harness real business intelligence you need when you need it.
CENTRALIZED ADDRESSBOOK
All contacts - updated centrally
Say goodbye to stacks of business cards - say hello to your team's unified address book! With all your contacts in one place you can now see the entire history of their communication with your company. And with everyone working off a single address book you won't need to chase after a needed email of phone number.
See detailed interactions linked to companies, projects and opportunities while tracking clients, designers, contractors, vendors. You can also create follow up tasks and reminders to help you stay on top of engagement and get notified when your next engagement alarm is due.
Our advanced filters also help you build lists for your next marketing campaign or mail blast.
TRACK TIME AND RESOURCES
Weekly Timesheets done in minutes
Record your time, hourly, daily, weekly or however you choose. directly against projects or opportunities.
You can also create project plans and track your activities in real time allowing you to see your team's availability and minimize over-booking time and over estimating costs!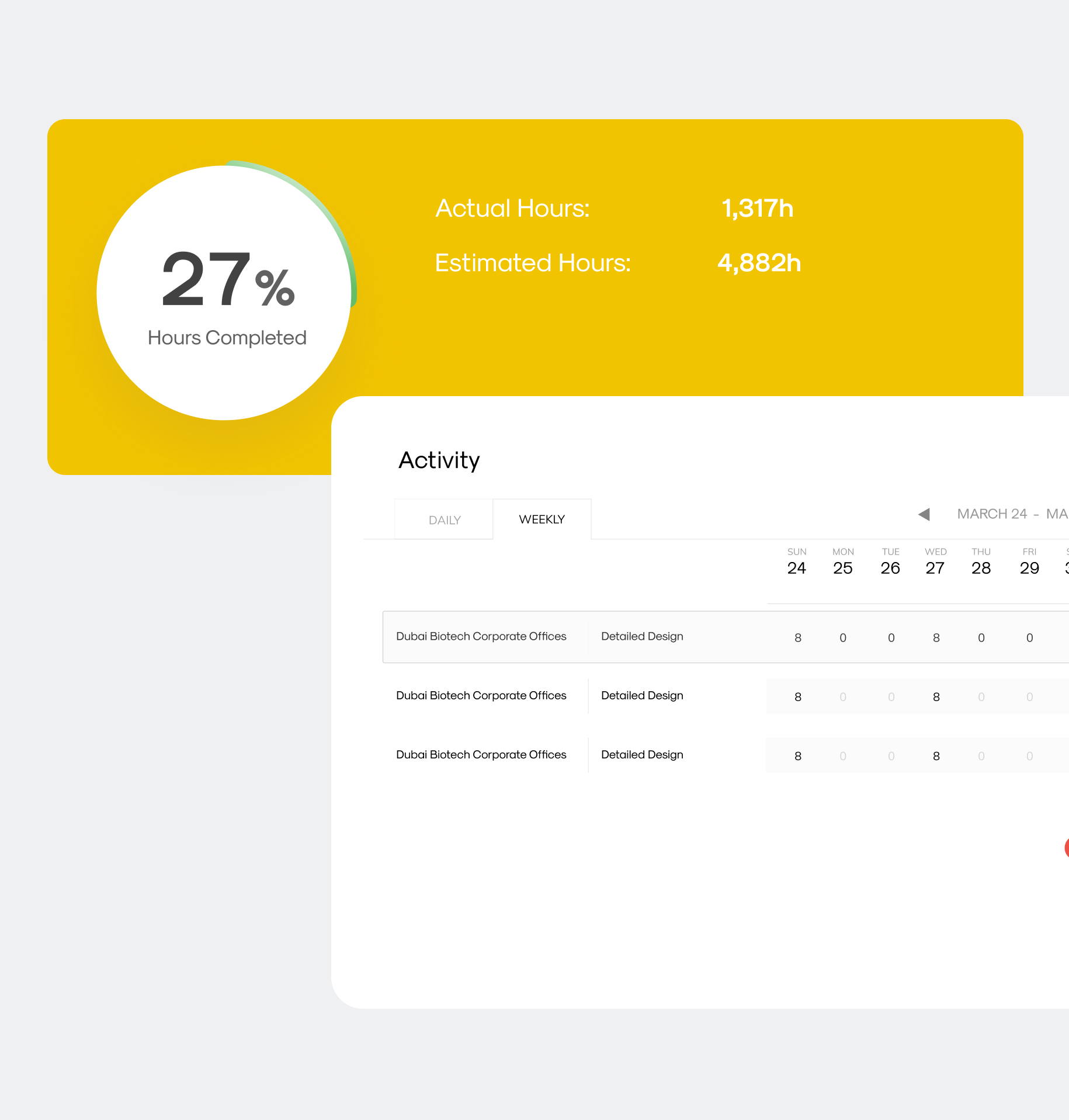 RESOURCE PLANNING
Deliver the best results for projects by being more organized
Still planning projects on spreadsheets and whiteboards? Chances are you're leaving room for error, and not using your team's time effectively. Don't allow deadlines and resource requirements to go off track.
Planning your team's time and scheduling resources with .STUDIO can save you up to four hours per week!
INVOICES
Create and streamline your invoices
A streamlined invoicing process improves efficiency and helps identify wasteful spending. Manage cashflow easily, intelligently, and effectively with .STUDIO, while focusing on what's important to your business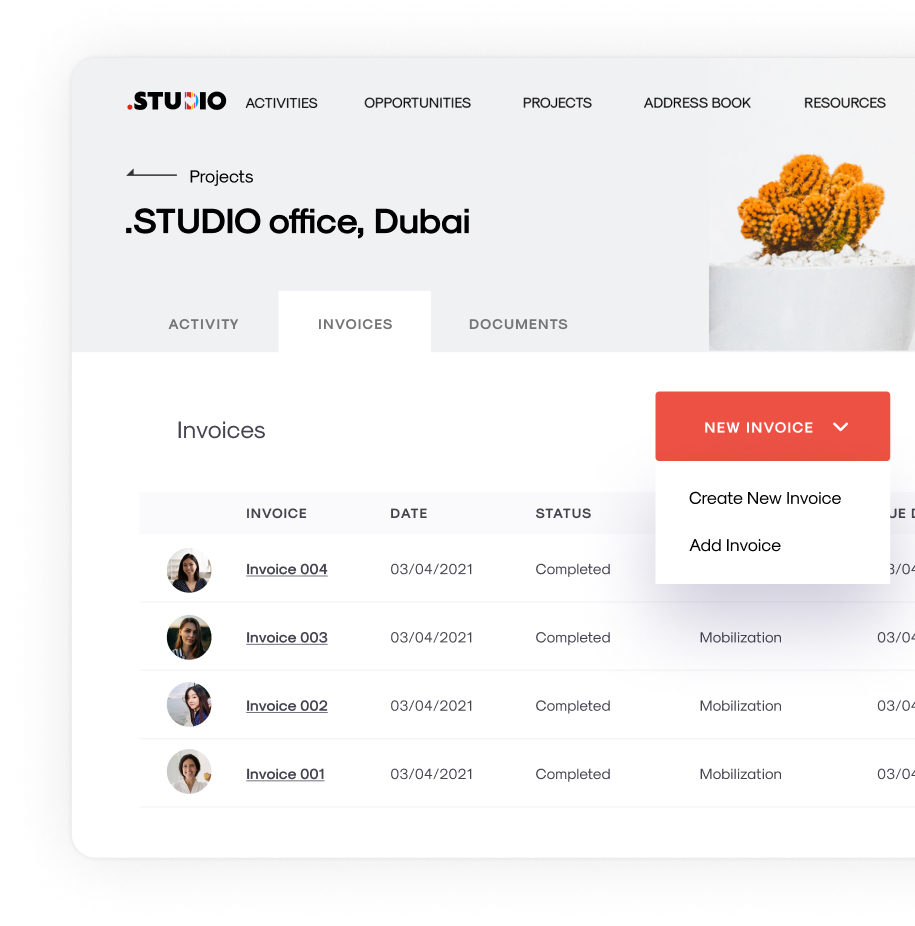 DATA SECURITY
Share info, securely & selectively
We understand the need for security and transparency when it comes to sharing information with your team. We use the best-in-class, security practices across our data infrastructure and back up your daily to mitigate data loss.
With .STUDIO you can also configure how you want your data to be accessed by your team. Users can have secure, view or edit access or a per project or opportunity basis. You can also choose to hide all financial data from your system for users who don't need to see it.
PROFITABILITY
Manage your budget and track profitability
Profitability is one of the most important parameters to understand if you're measuring your company's financial operations correctly. Get a quick, real-time view of the profitability of your project with .STUDIO.